Label Manufacturers | Sticker Printers | Printed Labels Suppliers | Label Printing India
Type of Labels / Quality Control Labels
The spotlessly clean, centrally air conditioned plant,

maintains a dust free environment so that the sticker labels we provide you with are of the highest quality.
J K Labels is committed to continuous process improvement, defect prevention and the reduction of variances to achieve total customer satisfaction.
SOP (standard operating procedure) displayed for every process to avoid variances in label manufacturing.
Air curtains and insect killers to maintain insect free plant.
Complete demarcation of different areas to avoid mixing of raw materials, work in progress, finished goods and inventory.
Rejection tracking system and FIFO (first in first out) strictly implemented.
Cleanliness charts displayed and employees training carried out every fortnightly.
Everyone at J K Labels is responsible for maintaining high quality standards, and under the guidance of our Quality Assurance Manager, oversees every aspect of the manufacturing process, from design and order placement through to delivery.
Roles of everyone in the organization s well defined however we believe quality control is still the responsibility of everyone.
All raw materials, work in process and finished product, is continually inspected for correct material and adhesive values and specification, color matching and registration, print quality and overall appearance.
In line cameras have been installed in our presses and finishing lines to aid this level of 100% quality inspection.
Raw material Testing Laboratory consist of gram-mage testers, ink lay-down machines and a

special ink-measuring device

, with latest technology, used for gauging ink while mixing them to create exact colours as required by the job. This device provides an accuracy of up to 1gm.
J K Labels Pvt Ltd. has held the ISO 9001:2008 QMS certification since 2010.
ISO 9001:2008 QMS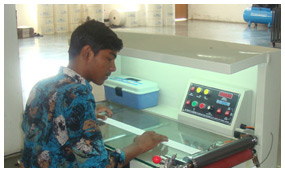 This quality management system standard enables us to ensure that our procedures, monitoring processes and records are in keeping with best international standard and practice. Effectively it means improved business process control through process standardization.
Important requirements of ISO 9001:2008 QMS include.
A set of procedures that cover all key processes in the business;
Monitoring processes to ensure they are effective;
Keeping adequate records;
Checking output for defects, with appropriate and corrective action where necessary;
Regularly reviewing individual processes and the quality system itself for effectiveness; and facilitating continual improvement
How will a customer benefit from our ISO 9001:2008 QMS certification?
ISO helps Create a more efficient, streamlined operation
Increase customer satisfaction and retention
Enhance marketing
Monitoring processes and records are in keeping with best international standard.
Improve employee motivation, awareness, and morale
Reduce waste and increases productivity