ISO 9001:2008 & ISO 14001:2004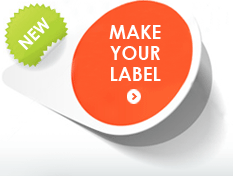 Self Adhesive Label Printer, Manufacturers & Suppliers
Welcome to JK Labels ( A Division of J K Fine Prints Pvt. Ltd.), the one stop sticker labels printing solution for all your Self Adhesive Labels needs. J K Labels Giving Face to your product since 1980 of printed labels/printed stickers and is an ISO 9001:2008 QMS and ISO 14001:2004 EMS accredited label printer. We are based in Mumbai, India.
With decades of label manufacturing expertise, we have been label suppliers to India's leading pharmaceutical, lubricant, FMCG, chemical, cosmetic and wine companies, to name a few industries.
Our forte in printed labels /printed stickers are Pharmaceutical labels, Food labels, Wine labels, Product labels, barcode labels as well as different bottle labels . We are one of the very few Label manufacturing companies in India that have a complete in house pre press facility from an artwork department comprising of experienced artwork designer team to block making and negative producing machines which enables us to produce custom labels/ sticker labels of any size, design, quantity, format and enhancements at quickest turnaround times. We will look at each label printing job individually and will discuss the labels with you which ensures you get best sticker labels at most competitive prices. We have , over a period of time streamlined our self adhesive label production process so that we can offer quick, reliable, quality service with competitive pricing. As one of India's premium label printing companies we are fully committed to supply only the highest quality labels.
All our Custom Labels, Product Labels, Food Labels, Wine Labels, Barcode Labels and Bottle Labels are printed using latest flexographic label printing technology, best quality control methods (ISO 9001:2008) and environmentally friendly solutions (ISO 14001:2004).. We also consider ourselves to be one of the very few label manufacturers in India who are capable of carrying out complicated print processes like Screen Printing, Gradient Effects and Cold Foil Stamping on labels. Our promoters are also co founders of Label Manufacturers Association of India (LMAI).
Choose Your Label by Industry or Type
Our Forte
Unmatched Quality
Short Lead Times
ISO 9001:2008 QMS and ISO 14001:2004 EMS Certified Plant
Robust Client Portfolio
Competitive Pricings
Top Of The Line Machinery
Customization
Fully Equipped In House Prepress
Wide Array Of Printing and Label Option
Security In Labels
Testimonials
"I must pay you a great compliment. I have never seen such a clean and neat company which is organized in such a perfect way."

Mr. Ferdinand Ruesch
Vice Chairman,
Gallus Ferd, Ruesch AG, Switzerland (February 19.2009)
(Worlds Leading Flexographic label Machine Manufacturer)

"We have been sourcing our label requirements from J.K. Fine Prints for about two years now and have been happy with both their service and product quality.  They are a young and dynamic Company who keep coming up with newer and innovative solutions to meet their customers ever changing requirements."

Mr. Gautam Mehra
CMD,
Savita Oil technologies Ltd.
(India's leading Base Oil and transformer Oil Manufacturer)

"They are an excellent company to deal with and manufacture very high quality labels. They are extremely reliable, prices are always the most competitive amongst label companies and deliveries always on time. I would highly recommend them."

Mr. Harish Kumar
Managing Director,
Maharaja Whiteline Industries
(One of India's largest Home appliances manufacturer)

"Think J K Labels are a good company to deal with and produce some fine quality products."

Mr. James Dowling
Owner, Catering Disposables,
Dublin, Ireland