ISO 9001:2008 & ISO 14001:2004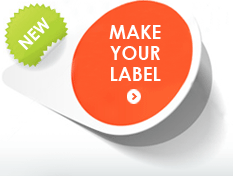 Well Known Label Manufacturers & Suppliers in India
Labels and stickers are what give an identity to a product. If a product does not come with a label, it loses its value. The reason for this is that the brand of the product is indicated by means of the label or sticker. J K labels, featuring as frontrunners in the race of labels manufacturers in India, realize the responsibility that we hold towards our customers. Our patrons, who trust us to provide them with nothing lesser than the best, believe that we would go to any length so that they may get the perfect product. The infrastructure and the know how that we possess is unmatched by any sticker manufacturer in India and we proudly announce that our love for professionalism has helped us reach the heights that we are at. 30 years of extensive practice in production of stickers and labels, has earned us the very important ISO 9001:2008 and ISO 14001:2004 certification. With our base in Mumbai and being coveted with a clientele across industries, we feel humbled by the support and the trust that our clients show in us.
JK labels has created a colossal place for itself among label and stickers manufacturers in India. We are one of the few label printers in India with our state of the art machinery and technology; With a team of artwork designers and being one of the few manufacturers with in house pre-press facilities along with block making and negative producing machines, we can make custom labels and cater to urgent deliveries. These facilities enable us to have all types of labels right from plain laser labels to packaging labels to thermal, transparent and hologram labels etc.
Our diverse range of labels, namely food labels, bar code labels, wine labels, food product labels, beverage bottle labels, security labels, holograms stickers etc have made us stand as one among the few best sticker manufacturer in India. Since a label or a sticker serves as the face of a brand, we at J K Labels believe that it should be completely customizable, which belief gives birth to the diversity we show in our product range and the promise that we can deliver any sort of shape and size in labels or stickers. As one of the leading labels manufacturer in India, we at J K Labels, take up the responsibility of value for money for our clients. This is clearly seen in the processes that we use in the manufacturing of our products, we carry out block making, have house negative producing machines, we produce thermal, transparent and hologram labels and also make use of the latest flexographic label printing technology because a promise of quality product always comes with the assurance of modern technology.
Our promoters are also co founders of Label Manufacturers Association of India (LMAI).
Choose Your Label by Industry or Type
Our Forte
Unmatched Quality
Short Lead Times
ISO 9001:2008 QMS and ISO 14001:2004 EMS Certified Plant
Robust Client Portfolio
Competitive Pricings
Top Of The Line Machinery
Customization
Fully Equipped In House Prepress
Wide Array Of Printing and Label Option
Security In Labels
Testimonials
"I must pay you a great compliment. I have never seen such a clean and neat company which is organized in such a perfect way."

Mr. Ferdinand Ruesch
Vice Chairman,
Gallus Ferd, Ruesch AG, Switzerland (February 19.2009)
(Worlds Leading Flexographic label Machine Manufacturer)

"We have been sourcing our label requirements from J.K. Fine Prints for about two years now and have been happy with both their service and product quality.  They are a young and dynamic Company who keep coming up with newer and innovative solutions to meet their customers ever changing requirements."

Mr. Gautam Mehra
CMD,
Savita Oil technologies Ltd.
(India's leading Base Oil and transformer Oil Manufacturer)

"They are an excellent company to deal with and manufacture very high quality labels. They are extremely reliable, prices are always the most competitive amongst label companies and deliveries always on time. I would highly recommend them."

Mr. Harish Kumar
Managing Director,
Maharaja Whiteline Industries
(One of India's largest Home appliances manufacturer)

"Think J K Labels are a good company to deal with and produce some fine quality products."

Mr. James Dowling
Owner, Catering Disposables,
Dublin, Ireland